#TEAMVALKYRIE PITCH WARS MENTOR WISHLIST
PITCH WARS 2019 is finally here!! Welcome to #TeamValkyrie's wishlist! If you've written a YA Fantasy, you've come to the right page! We're so excited to have you stop by and see how stoked we are to fight for our future mentee's brilliant manuscript.
[Valkyrie walking like a boss with a sword in her right hand, her blue cape and hair blowing in the wind, and fireworks from the exploded pleasure vessel behind her]
WHAT IS PITCH WARS?
If you're already familiar with the ineffable Brenda Drake's brainchild, feel free to skip ahead to learn a little more about the faces behind #TeamValkyrie. For those who are new to Pitch Wars, it is an incredible mentoring program 'where published/agented authors, editors, or industry interns choose one writer each, read their entire manuscript, and offer suggestions on how to make the manuscript shine for an agent showcase.'
Sounds amazing, right?
If you're still here, then we're taking that as a yes. Which means—you're probably already wondering who your future mentors are. So, let's get to it.
#TEAMVALKYRIE BIOS
Born in a small town in the south of England, Ciannon Smart can typically be found painting abstract canvases, playing netball, or teaching herself new scores on the piano. She's a 2017 Pitch Wars alum; her passion for writing and reading comes in handy in her part-time career working with high schools as an Educational Consultant. A lover of the fantasy genre in particular, her debut YA fantasy novel WITCHES STEEPED IN GOLD will be out early 2021 from Harper Teen US, and Hot Key Books UK. She's represented by Taylor Haggerty of Root Literary.
Deborah (Dee) Falaye is a Nigerian-Canadian young adult author. She grew up in Lagos, Nigeria, where she spent her time devouring African Literature, pestering her grandma for folktales, and tricking her grandfather into watching Passions every night. When she's not writing about fierce black girls with bad-ass magic, she can be found obsessing over all things reality tv. Deborah currently lives in Toronto with her husband and their partner-in-crime yorkie, Major. She is represented by Victoria Marini of Irene Goodman Literary.
WHY IS OUR HAIR SO BIG?
GET TO KNOW US BETTER . . .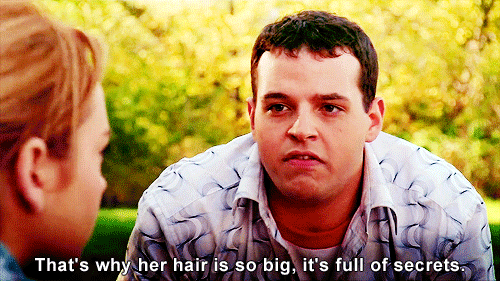 [Damian and Cady from Mean Girls discussing Gretchen's big hair]
Ciannon is trash for the Real Housewives, especially Atlanta and Beverly Hills. (Dee obviously approves of this.)

She vacillates between Slytherin and Gryffindor, depending on the day.

She's a firm advocate for wearing trainers with most things.

She's known by her friends for ordering french fries wherever she travels, from Paris to Bangkok and everywhere in between.
Dee is obsessed with reality TV. Bachelor, Bachelor in Paradise, Real Housewives of Atlanta, Beverly Hills, Ex on the Beach . . . whew chile, this can't be healthy. (Ciannon begs to differ.)

She listens to Bob Marley almost every day. One of her fondest memories is singing karaoke to Buffalo Soldier with her dad.

It took a long time for her to accept this, but Dee is 100% Slytherin. Now that she's embraced that dark side, she'll fight anyone who tells her otherwise.
STORY CONCEPTS / ELEMENTS WE ABSOLUTELY LOVE AND WANT
Category: YA
Genre: Fantasy
If you've written a high-concept, Young Adult Fantasy, we are DEFINITELY the mentors for you! We want to devour your beautiful story, and we are especially hungry for:
High / epic / low / paranormal / political / dark / magical (realism)

Diverse stories with diverse characters

Non-western worlds and influences

Lush, dark settings

Unique mythology and magic systems!!!

Lesser known retellings

Vampires (Although it isn't out yet, we're dying to sink our teeth into Beautiful by Renée Ahdieh. If you can comp your book to this, send it our way!)

Unique magical creatures

Court intrigue

Epic quests and heists

Engaging action scenes! (Make it bloody, make it dark!)

Compelling writing and strong voice

Characters with agency

Enemies-to-lovers / enemies-to-lovers-to-enemies / enemies-to-disaster 'murdery' children

Morally grey characters who do what needs to be done

Anti-heroes and complex villains

Tormented boys (We will love you forever if you send us the next Darkling / Cardan)

Soft precious cinnamon roll boys

Blair Waldorf type girls, but make it fantasy

Bad-ass fierce girls, smart girls, don't-need-no-man type girls (Our kingdoms for the next Shuri!!!)

Strong character relationships (female friendships, platonic relationships, familial relationships, found families, romance that crackles. Give us intensity, passion, tension—WE WANT IT ALL.)

Villain love stories (If your comp is The Cruel Prince, why isn't your sub in our inbox already?)

Plot twists that make us weep and rage (Dee thinks the best plot twists are the ones that destroy you so much you end up throwing the whole book away while ugly crying alone at 4am in the morning #truestory Ciannon agrees wholeheartedly)

Humor (We love to laugh! Give Dee a reason to use the skull emoji)
While our tastes are discerning, we're definitely open to being surprised. So, if you're still certain we might be the right fit, feel free to submit to us anyway!
FAVORITE BOOKS AND AUTHORS
Because we love comps, here are some of our favorite books by some of our favorite authors. If you've comped your book to any of the names on this list, then you should definitely slytherin to our inbox.
An Ember in the Ashes by Sabaa Tahir

Angelfall by Susan Ee

Anything written by Laini Taylor (even her grocery list)

Ash Princess by Laura Sebastian

Caraval by Stephanie Garber

Falling Kingdoms by Morgan Rhodes

Forest of a Thousand Lanterns by Julie C. Dao

Girls of Paper and Fire by Natasha Ngan

Kingdom of Souls by Rena Barron

Nocturna by Maya Motayne

Red Queen by Victoria Aveyard

Sky In The Deep by Adrienne Young

The Belles by Dhonielle Clayton

The City of Brass by S.A. Chakraborty

The Cruel Prince by Holly Black

The Grishaverse books by Leigh Bardugo

The Last Namsara by Kristen Ciccarelli

The Merciful Crow by Margaret Owen

The Tiger at Midnight by Swati Teerdhala

The Wrath and The Dawn by Reneé Ahdieh

The Winner's Curse by Marie Rutkoski

There Will Come a Darkness by Katy Rose Pool

Vicious by V.E Schwab

We Hunt The Flame by Hafsah Faizal

Wicked Saints by Emily A. Duncan

Wintersong by S. Jae Jones
WE ARE NOT THE RIGHT FIT FOR . . .
As you can already tell, there are so many story elements we absolutely love. However, there are a few genres we can't request at this time and/or concepts on our no-no list:
Fantasy with sprawling timelines (We prefer to admire these stories)

Sci-fi (Again, we like to look on in awe)

Contemporary

Horror

Anything outside the YA category (Middle Grade / Adult)

Rape and/or sexual assualt as a plot device

Premises that undermine marginalized groups

Magical-negro tropes

White savior tropes
If you've gotten this far, then it must mean you're really considering us as mentors, and we are just as ecstatic to have you! Now, we'd really like to tell you what we want from our future mentee.
[Valkyrie skidding back on one knee with twin blades poised to attack]
OUR IDEAL MENTEE
This feels like writing a letter, which, coincidentally, we both think is a lost art.
Dear Mentee,
The mentor / mentee relationship is so crucial to the Pitch Wars experience. We wouldn't be the writers we are today without our mentors and the support we received from them throughout our journey.
As your mentors, we hope to foster a relationship built on support, communication, and mutual respect. In return, we'd love for you to come to the table prepared to do the work and open to suggestions. Revision is a huge aspect of Pitch Wars, and we truly believe that the best writers are the ones who continue to hone their craft. If you're convinced you have the perfect manuscript, and as a result are not open to feedback, then you are not the best fit for us.
We don't want perfection; we want potential.
As a result, our ideal mentee is someone who isn't afraid of revisions, someone willing to consider the merit of different perspectives regarding how to improve their work. Someone who's ready and excited to take their book to the next level.
We do not expect blind allegiance, nor do we expect you to abscond from your vision. What we propose is a way to execute your vision in the best possible way, which involves doing two or more big picture rounds, followed by smaller line level edits.
If you're ready to roll your sleeves up, then we're definitely your girls.
So what exactly are we proposing here?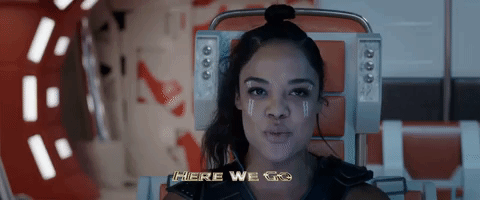 [Valkyrie is ready to GO]
OUR MENTORSHIP PROCESS
While the mentorship process is a collaborative one, it is important for our mentee to know that this is ultimately their book baby. We would never want you to lose your vision for your own story. With that being said, we've both gone through the Pitch Wars journey, and we know how much work is required to polish a manuscript. We are huge fans of editing, and our revision process is very intense. If you follow either of us on social media, you may have seen so as we've battled to reach deadlines. We've rewritten our books from scratch over multiple drafts. This is due to the level of detail we seek to provide in each round, and our commitment to executing our drafts thoroughly.
Our plan includes:
Round one: an initial letter, in which we focus on structure and big picture edits. We're looking at your plot, your characters, and your worldbuilding. The edit letter will be very thorough, but it's nothing to be afraid of as we'll be on hand to answer questions/allay concerns/cheer you through. By the end of round one, you will have a shinier, tightly-plotted manuscript in your hands. We are huge fans of beat sheets, which we'll be asking our mentee to complete before beginning the first round!
Round two: the second round is usually a quick one, in which we focus on story continuity and flow. If there are any plot holes, we'll plug them. By the end of this round, your manuscript will be seamless, your pacing tighter. There's a chance you might also find hundreds of in-line comments from us—most likely screaming about whatever havoc you've wrecked on our favorite characters, swooning over that heart-racing kissing scene, or just plain sobbing over how hard you've destroyed us with your ending.
Round three: if time permits before the agent showcase, our final round will focus on line level edits. After all, we want your prose to sing to the gods (or in this case, agents—this is exactly the reaction we want from them as they read your brilliant story.)
[Jennifer Hudson unable to cope with epic levels of talent]
To give you a better idea of what you can expect from us:
Ciannon's strengths centre around character development, their motivations and agency, plot, and line edits. She loves to see characters taking active steps to reach and secure their goals - bonus points if these characters make decisions they can acknowledge are wrong, but go about them anyway - and driving plot. Ultimately though, line editing is the part of the process she enjoys the most—digging into the prose, and enriching language and descriptions laterally.
Dee's strengths lie in plot, dialogue, and worldbuilding. She loves tearing storylines apart, and rebuilding a stronger one from its ashes. She especially enjoys brainstorming plot and scene details, and will spend hours talking through this with you. If she happens to throw a few shades at you in the process, then it means she likes you.
Still not sure whether to sub to us?
Our experience as mentees is the reason we chose to become Pitch Wars mentors this year. We went through the highs and lows of getting into pitch wars, working tirelessly with our incredible mentors, prepping for the agent showcase, querying, and going on submission with some amazing editors. We forged some life changing relationships throughout this process, and the advice we received from our mentors and fellow mentees was not only instrumental in shaping our manuscripts but also helping us navigate the writing industry. We would love nothing more than to share everything we learned from our experience with our future mentee.
It takes a village to write a book. We've been lucky enough to have so many talented people guide us through the trenches. We welcome the chance to do the same for you.
[Queen Bey asking if you're ready to be our mentee]
Definitely head over to the main PitchWars site for the 2019 Blog Hop post, and check out the other YA mentors' wishlists!